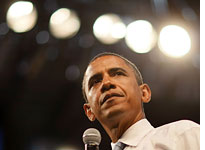 ...racism is the only reason that McCain might beat him...

You may or may not agree with Obama's policy prescriptions, but they are, by and large, serious attempts to deal with the biggest issues we face: a failing health care system, oil dependency, income stagnation, and climate change. To the rest of the world, a rejection of the promise he represents wouldn't just be an odd choice by the United States. It would be taken for what it would be: sign and symptom of a nation's historical decline.

Full commentary on the topic from Slate's Jacob Weisberg
here
...